Stats Cocktails & Dreams
Danakas family started the Hot Spot restaurant  in 1980 then they changed to Stats Sports Bar in 1989 with the Rough Riders  when they won Grey Cup.
In 1997, when Jason joined the Danakas family they changed it to Stats Cocktails & Dreams
In memory of Late Mr. Peter Danaks they added Mr. D's to there branding in 2005.
Logo drawing credits- Athanasia
Mrs. & Mr. D they bought Hot Spot to pass on the legacy to there kids.
Mia & Jason are Captain in-charge of Stats Cocktails & Dream, where you gather as friends and become a family
They entertainment guests with lot of options including games of Chance
One of the few place to offer Canadian AAA Beef and extensive Gluten Free Menu
They also have selective selection of Craft Beers, Cocktails and Coolers, Hard Liquor and many more !!!!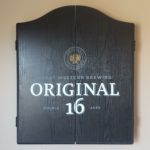 "Nothing is pre-cooked, everything is made fresh with extra care from the chefs"
Here are my top choices from there menu
1832 Victoria Ave E, Regina, SK S4N 7K3